What is Drill Bit Grinder?
Drill bit grinder is a handy machine that is used to sharpen drill bit, so that makes you easily bore holes in a huge number of materials. Whether the drill bit is made by HSS or Carbide Steel, the drill bit grinder can do the job because of it has two types of grinding wheel of options: CBN and SD, CBN for HSS drill bit; and SD for Carbide Steel drill bit. Cutting-edge technology is used for the manufacturing of drill bit grinding machine as it ensures precision and accuracy when you use drill bits to bore holes in any materials whether items are metals or hardwoods.
Who can use a Drill Bit Grinder?
Any person, whether a pro at grinding or a novice. You can use this machine to sharpen drill bit in any situation and anywhere. It doesn't require expertise or any particular skill set. Only the basic learning of functions and instructions of this machine is required for its operation.
Types of Drill Bit Grinders
There are numerous types of drill bit grinders available in the market. Each type has its own set of features and specifications. The accuracy and precision depend on the type. With the wide range of drill bit grinders available, you can easily find a type that is according to your needs. The most popular drill bit grinders are portable drill bit grinders as they can be easily carried from one place to another.
How does a Drill Bit Grinder work?
A drill bit grinder is composed of a grinding wheel that is made of diamond. The major reason behind using this material it is the hardest material. Thus, it gives drill bit grinding machine an ability to grind drill bit easily no matter how hard the material or drill bit is. Typically, the angle of a drill bit is 118 degrees. Therefore, it can grind through numerous types including plastic drill, metal drill (twist drills), and wood drills. Most of the drill bit grinders are operated on electricity.
Grinding Ranges of Drill Bit Grinders
The grinding ranges are widely, from φ3 to φ40 and more. In actual use, the typical range for drill bit grinder is φ2to φ14, the model is PG-13D,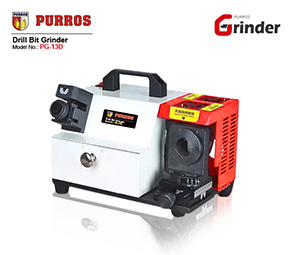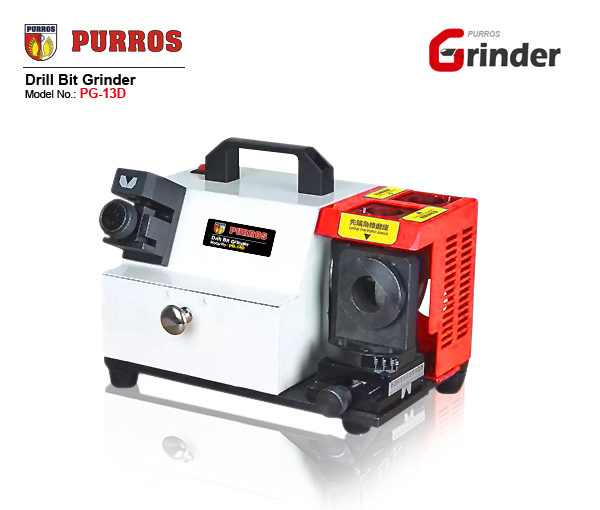 for more information please view here: http://www.drillbitgrinder.com/product/pg-13d-patent-drill-bit-re-sharpener-grinder/.
For end mill grinder, so many customers ask for the grinding range is φ4 to φ20, so we are developing the model of end mill grinder is PG-X3A,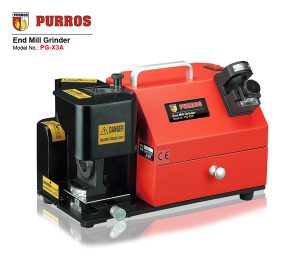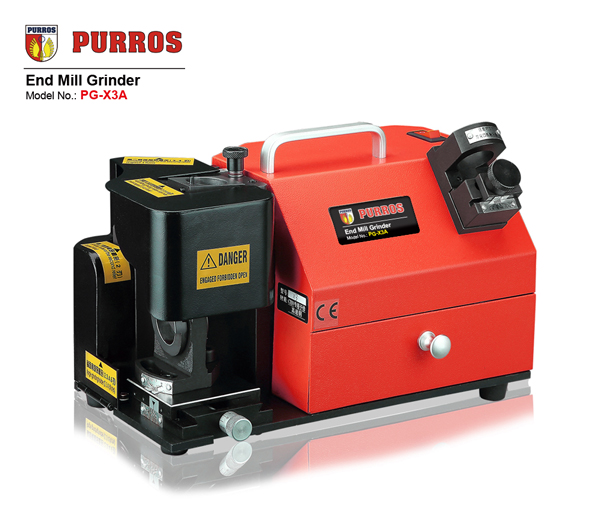 learn more: http://www.drillbitgrinder.com/product/purros-pg-x3a-end-mill-grinder-end-mill-sharpener-grinding-range-4-20mm/

Buy sharpening machines for drill bits, please click here.If you are interested in the grinding ranges of drill bit grinder, end mill grinder, ball end mill grinder, portable multi-purpose grinder, screw tap grinder, lathe tool grinder, universal tool grinder or universal cutter grinder; please feel free to contact us: evan@purros.com
Sharpening of Drill Bits
In case your drill bit has lost its edge, you can get it sharpened to improve its functionality. There are numerous DIY methods available on the internet that can help you to do this job. Moreover, you can also use various specialized tools and equipment for this purpose. If you are pro at it, DIY methods may enable you to sharpen your drill bits. However, for novices, it is recommended to take help of these handy tools and equipment, you can choose drill bit sharpening machine.
Buying Drill Bit Grinder
If you are planning to buy a new drill bit grinder, you must take numerous factors into consideration. Ensure that you are buying it from a renowned brand that offers quality products. Furthermore, you must buy the one according to your requirements and specifications i.e. consider the functions you require and buy the one accordingly. Drill Bit Grinders are available at different rates. These rates depend on their functionality and specification. Therefore, you must keep your budget under consideration before taking the final decision of buying it, or asking for PURROS Machinery here http://www.drillbitgrinder.com.