In production, chipping of corner edge twist drill is happened many times. Because of drill material, loose jig, uneven hardness of workpiece material, unsuitable feed speed, unsuitable coolant, relief angle too small, or exhausted bit, etc.
Situation 1: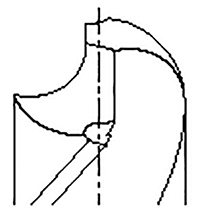 Cause: Inappropriate Cutter Material
Solution: Choose suitable cutter material for twist drill
Cause: Uneven Hardness Distribution on the Workpiece Material
Solution:
① Isostatic Treatment
②Change cutter, material & cutting conditions, machining method (EDM)
Cause: Cutting or Feed Speed is too High
Solution: Reduce cutting speed or feed rate
Cause: Not Enough Coolant
Solution: Maybe there is too much heat during cutting, change lubrication method.
Situation 2: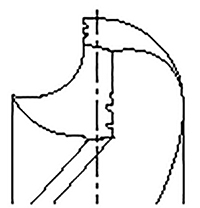 Cause: Large run out after attached to machine, or loose hold
Solution:
①Check holder and/or select another one
②Check run out after fixing to the chuck
Cause: Relief angle is too small
Solution: Regrind correctly by drill bit grinder
Cause: Cutter material is not suitable
Solution: Choose suitable cutter material
Cause: Cutting speed or feed is too high
Solution: Reduce cutting speed or feed rate